#10. Ramires – Chelsea

Source
Falling back to defend or rushing forward to attack, these playmakers are at the very centre of a team. Here are the Premiership's top ten.
Ramires has been an absolute revelation at Chelsea this season, providing the club with a foundation for their form. The 28 year old former Benfica man was on fine form before Christmas but after a disappointing game playing for Brazil, his form seemed to tail off. The last few fixtures proved this just a short-lived dip however.
#9. Herrerra – Manchester United

Source
The last month or so has seen some crucial goals from the Spanish star notably against Liverpool. His work rate has enabled The Red Devils to qualify for Champions League in a very disappointing season under Van Gaal. He will surely be looking to get some more silverware next season.
#8. Juan Mata – Manchester United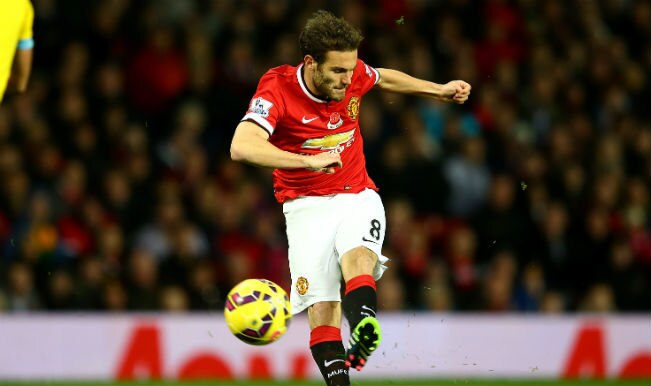 Source
Having collected his player of the month award for March, Juan Mata's return to the United side coincided with two of the team's best performances this season notably against Spurs and Liverpool where his influence was clearly obvious. Since his return to the club, he has solidified a strong attacking partnership with Herrera.
#7. Oscar – Chelsea

Source
The Brazilian international has been hailed by Jose Mourinho for his spectacular performance this season. The manager is also confident that he will replicate his team mate Eden Hazard's success. For somebody to shine in a top notch squad such as Chelsea's the pressure will surely be on and welcomed by this lad.
#6. Raheem Sterling – Liverpool

Source
Blessed with natural pace that makes even the best defenders reeling, Raheem Sterling is an upcoming superstar in the making. He is nowhere near his full potential yet but the future does look very promising judging by his lightning performance this season. Forty million pounds is the latest price offered for this guy.
#5. Willian – Chelsea

Source
Yet another Chelsea addition to this list. The Brazilian international winger has continued his sizzling form in North London and will probably be please he chose The Blues over Tottenham Hotspur. His most notable stellar performance was the close victory over 10 man Everton for a crucial three points. Nice.
#4. Matic – Chelsea

Source
Jose Mourinho re-signed this midfielder back from Benfica for 22 million pounds after selling him for a mere three! The Chelsea boss clearly saw it was worth the hit for his form since returning to Stamford Bridge has been nothing short of perfect. Long may it continue to fortress Europe next season!
#3. Cesc Fabregas – Chelsea

Source
Cesc Fabregas since arriving at Stamford Bridge has certainly not failed to impress nor live up to his hype. He may have got a lot of stick from Arsenal fans but Cesc can surely handle the pressure as shown in the recent clash against his old team a few months back.
#2. Phillipe Courtinho – Liverpool

Source
This will be one to watch. The written word will not do justice to the superior skill Phillipe is displaying at the moment. Some have even tipped this youngster to be the next Messi with the way he handles a ball. The Liverpool star was named in PFA Team of the Year and consistently puts in tremendous displays in the recent games
#1. Eden Hazard – Chelsea

Source

Eden Hazard has had a wonderful spell at Stamford Bridge. Since arriving his performances have always been magical and consistent. Rarely putting in a poor performance and being so instrumental during the match has earned the Belgian international the top place on this list. It is no surprise he picked up the player of the year award a few months back.
YOU MAY LIKE