Neymar's recent €222m move from Barcelona to PSG shattered the previous transfer record by more than double. Still, most football fans didn't seem too surprised by the price the Parisians were willing to pay for the talented striker.
That's because football transfer fees have risen steadily since basically forever, and it usually takes a little something extra for a move to genuinely surprise us, like these five shocking transfers did.
1975: Pele to New York Cosmos
In the 1970s, there was only one soccer player in the world that was a household name in America: Pele. Knowing this, New York Cosmos General Manager Clive Toye went on a mission to bring the recently-retired legend to his club in an attempt to boost American interest in the sport and save the fledgling North American Soccer League.
After years of courting, Toye's pie-in-the-sky dream came true when Pele agreed to a three-year, $2.8 million contract to play in the Big Apple. And for at least a short time, the plan worked. Attendance tripled, TV ratings soared, and the world (and more importantly, America), suddenly knew that the U.S. had a pro soccer league. The transfer also triggered a wave of other older stars like Beckenbauer and Carlos Alberto to follow suit and join the league.
1989: Mo Johnston to Rangers
For the better part of the last century, Protestant club Rangers FC had an unofficial rule against signing Catholic players. But in 1989 the club not only broke that rule to the dismay of their own supporters, but also to that of their biggest rivals when they signed former Celtic hero Mo Johnston. If UK online sportsbooks existed then and offered odds on football transfers like they do today, you can bet the odds of Johnston to Rangers were way longer than even Alexis Sanchez's current 25/1 longshot odds of moving to PSG.

Source
The first Catholic signed by Rangers since World War I, Johnston's skills on the pitch weren't enough to win over many supporters at his new club. While many boycotted the club or turned in their season tickets, the club's equipment manager even forced Johnston to prepare his own kit before matches. Celtic supporters weren't any better, and several were even detained on accusations they were plotting to assassinate the striker. To protect their investment (and Johnston's life), Rangers paid for a private jet to fly him from Glasgow to London each night and even gave him a safe house in Edinburgh to escape to.
2000: Luis Figo to Real Madrid
After leading Barcelona to two league titles and several other honors in the late 90s, Luis Figo shocked the football world by making a then-record transfer to rivals Real Madrid in July 2000. Despite all of his contributions to the Catalan club (including doing enough in a Barca shirt to win the Ballon' d'Or that November), his former Camp Nou home would no longer be a safe place for him.
In the first match against his old club, Figo was berated with a non-stop barrage of jeers and banners that included words like "Judas" and "Traitor". The usual corner taker, Figo was exempt from duty thanks to the barrage of coins, batteries, phones, and other missiles that targeted him whenever he roamed near the touchline. His 'treacherous' transfer continued to make Nou Camp hell even years later, especially in November 2002 when amid a hail of glass bottles and other objects, a pig's head landed near him during a corner kick.
2006: Javier Mascherano and Carlos Tevez to West Ham
Since neither even played a full season with the club, in retrospect it might be hard to grasp why Carlos Tevez and Javier Mascherano's 2006 move to West Ham was such a big deal. Although both of the Argentine internationals made the move to East London from Corinthians, it was investment groups Media Sports Investment and Global Soccer Agencies that owned the players' rights and not the Brazilian club.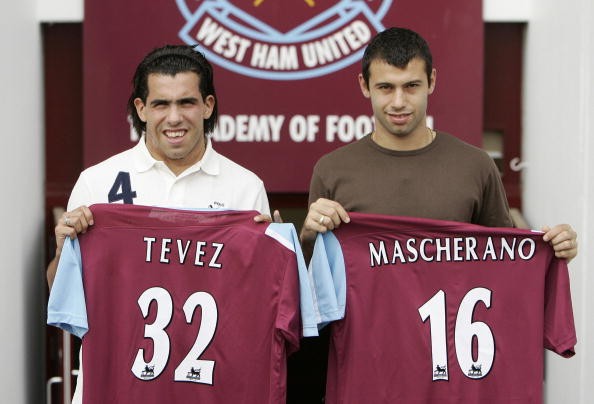 Source
This 'third-party' ownership of players would later be outlawed by the Premier League, but in the meantime the two players were allowed to make the move for undisclosed amounts of money and time. Neither lasted long at the club, with Mascherano moving to Liverpool later that season and Tevez transferring to Man U after helping the Hammers survive relegation. A contract abnormality in the weird transfer saga later ended up costing West Ham £5.5 million in fines.
2008: Robinho to Manchester City
Robinho's desires to leave Real Madrid for Chelsea were well publicised. The Brazilian rejected his club's attempts to negotiate a new contract, as he felt the club just wanted to use him as a bargaining chip in the grand plan to bring Cristiano Ronaldo to the club the following summer.
On the final day of the summer 2008 transfer window, Robinho finally made his move out of the Spanish capital. Except it wasn't to London, but instead Manchester, where new City's new Arab owners dropped around €42 million on the forward in a four-year deal. A move to the Blues (the West London kind) seemed like such a certainty that Robinho himself accidentally said it was a great opportunity to move to Chelsea, and not Manchester, in a post-transfer interview.
YOU MAY LIKE