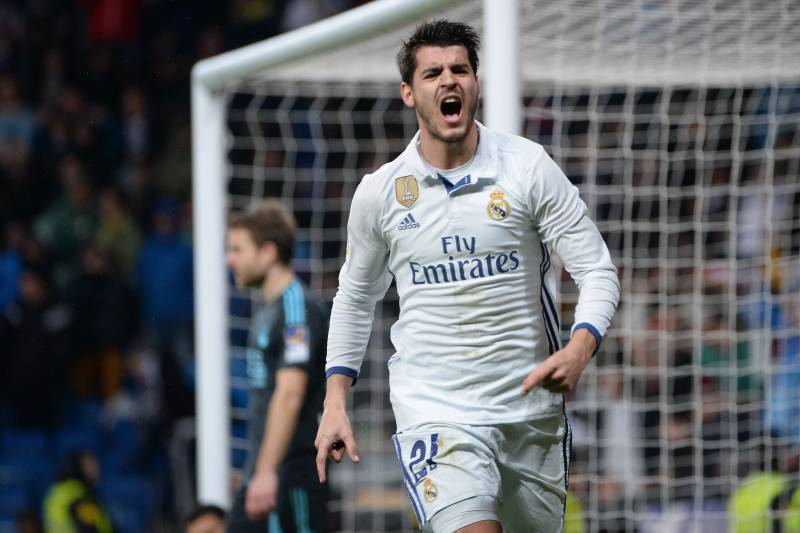 Source
According to the (ESPN FC), With Zlatan Ibrahimovic's cruciate knee injury preventing him from playing any more this season, even potentially ending his Manchester United career, Jose Mourinho is desperate to sign a new striker this summer. It will be nigh impossible to replace someone of Ibrahimovic's quality, however while the Swede is deadly accurate and powerful, a player with more pace to keep up with Rashford would be a welcome adjustment to United's attack. ​
Enter Alvaro Morata, the back-up center forward for Benzema of Real Madrid. Morata has been getting more time on the pitch as a result of Real Madrid's injuries and tactical rotation of players to ensure a title win, but he is not getting as much time as he would for Manchester United. In England, he would start. At 24 years old, he has time to grow with the club as well.
Morata is an estimated €40 million, and has demonstrated deadly precision in front of goal for his Madrid side this season. Not only is he a solid center forward for a price United can certainly pay, he is also able to play as a left or right winger, which would allow Rashford to continue his growth as center forward should Mourinho need to switch his squad up based on injuries, illnesses, or international duty.
Reports say that Morata is ready to leave Spain this summer, and isn't particular about a return to Italy either, which makes England sound like the perfect destination for the young man. Amidst rumors that United may sell De Gea to Real Madrid, a player trade could be in the making as both clubs seek to further their success.
YOU MAY LIKE