#10. Shay Given

Source

The former Republic of Ireland international is currently playing for English Premier League outfit, Stoke City. However, at the age of 40 and starting opportunities hard to come by, it is safe to say that the former Aston Villa custodian could be set to hang his gloves by the end of the current campaign. A career that started back in 1994, has seen its fair share of highs and lows and Given can retire with the knowledge that he has given the game everything he can.
#9. Andrea Barzagli

Source

It is astonishing to see just how much Barzagli has improved in the last five years at Juventus considering that he is now 35. By the end of the current campaign, the Italy international is going to be 36 and with his body showing signs of old age, it won't be surprising to see the former Wolfsburg man say ciao to a game that he has always played with pure heart and passion. The centre back has already retired from international football and we believe time for a new role in football is coming close.
#8. Tomas Rosicky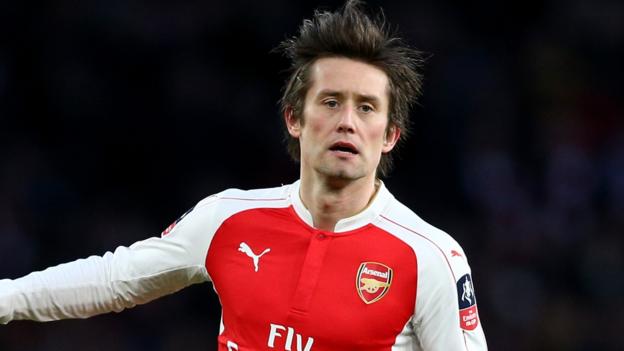 Source

Although the legendary Czech playmaker has said time and time again that he is not looking to step away from the game, the way things are at the moment seem to suggest that he may announce his retirement at the end of the current campaign. Rosicky left Arsenal earlier in the summer for boyhood club Sparta Prague after a ten year association with the English giants and at the age of 36, can't perform the way he used to a few years back. Nonetheless, the midfielder will have plenty of options to stay in the game when he chooses to retire.
#7. Dirk Kuyt

Source

If there is one football player who has earned the respect of people from across the globe due to his professionalism and down to earth attitude, it is the former Netherlands international. One of very few people to represent Oranje more than 100 times, the former Liverpool man is now 36 and although he is playing regularly for Feynoord, the player is expected to start working on his coaching badges – something that has always been on the cards. Football will definitely miss the hard working player running himself ragged once he hangs his boots.
#6. Patrice Evra

Source

Now 35, the former Manchester United and current Juventus full back has more or less achieved everything club football in Europe has on offer. With Juventus looking for younger options as the current team's age increases every season, it could be possible that Evra chooses to retire at the club and then start working on his coaching licenses which won't be a bad path for someone who has amassed so much experience in a long and illustrious playing career.
YOU MAY LIKE