10. Gianfranco Zola to Chelsea, £4.5million

Source
As part of the Ruud Gullit revolution at Chelsea, Gianfranco Zola arrived at Stamford Bridge in 1996 and the diminutive wizard managed to win the hearts of the Blues' faithful with his magic during his seven year stay in London. Zola guided Chelsea to the UEFA Cup Winners' Cup, UEFA Super Cup, FA Cup, Football League Cup and FA Charity Shield, and as the mark of his legendary status at the club, the striker was voted the greatest ever player by the Blues' faithful in 2003 ahead of the likes of Peter Osgood, Bobby Tambling and Jimmy Greaves.
9. Roy Keane to Manchester United, £3.75million

Source
Roy Keane and Sir Alex Ferguson may currently be at loggerheads, but there is no denying the fact that the midfielder was one of the best signings made by the legendary Scottish manager. Keane was signed from Nottingham Forest for a meagre £3.75 million and he went on to become the leader of the Manchester United side which dominated English football for well over a decade. Despite his acrimonious exit from the club, Keane made over 450 appearances for United and is considered one of the greatest ever players to have graced Old Trafford.
8. Didier Drogba to Chelsea, £24million

Source
A lot of eyebrows were raised when Chelsea splashed a whopping £24million to sign Didier Drogba from Marseille in 2004 but the striker more than managed to justify his price tag by playing arguably the biggest role in facilitating the Blues' rise to become a major European superpower. Drogba led Chelsea to 12 major honours and his crowning moment came in 2012 after he played a huge role in guiding the Blues to their maiden Champions League title against Bayern Munich.
7. Gareth Bale to Tottenham Hotspur, £7million

Source
Picked up as a prodigious teenager from Southampton's youth academy for a sizeable £7milllion in 2007, Gareth Bale was most certainly highly rated by Tottenham Hotspur. However, Bale struggled initially at White Hart Lane and it seemed like the young man would not be able to match his early hype. After being converted into a fully fledged left winger in 2010 though, Bale managed to flourish into one of the best players in the Premier League. Having enjoyed a wonderful 2013 campaign, Real Madrid came calling for the services of the Welshman and only managed to lure him away from White Hart Lane for a world record fee of £86million.
6. Frank Lampard to Chelsea, £11 million

Source
Lampard arrived at Chelsea for a sizeable fee of around £11million from West Ham United in 2001 and while considered very talented, the midfielder's signing was seen as a risk by the Blues. However, Lampard more than repaid his fee as he spent 11 glorious seasons at Stamford Bridge and led the club to 13 major trophies, scoring over 200 goals from midfield. Although Chelsea purchased a host of superstars under Roman Abramovich, Lampard remained a key component of the Blues' side and is considered one of the greatest players ever to play in the Premier League.
5. Patrick Vieira to Arsenal, £3.5 million

Source
Arsene Wenger has pulled off a couple of fantastic bargains during his time as Arsenal manager but arguably his best value for money buy was Patrick Vieira from Inter Milan for just 3.5million in 1996. In fact, Vieira was signed before Wenger was announced as the manager but the midfielder insisted that he only joined because he wanted to work with his French compatriot. And it proved to be a match made in heaven between Wenger and Vieira as the duo facilitated the rise of Arsenal to becoming one of the biggest clubs in the world. Vieira enjoyed a trophy laden nine year stay at the Emirates Stadium and he captained the wonderful 'Invincible' side to immortality in 2004 – cementing his place as one of the greatest leaders of the club.
4. Alan Shearer to Newcastle United, £15 million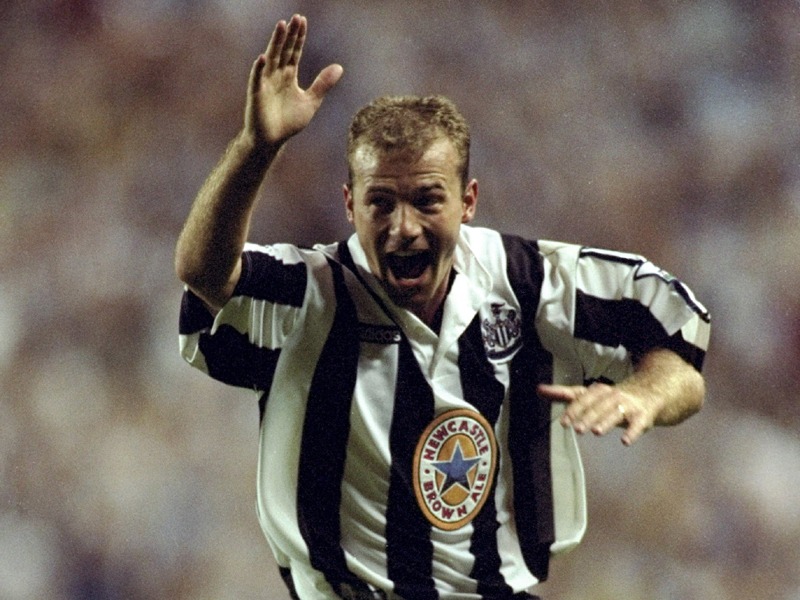 Source
It was a dream come true for Geordie Alan Shearer to join his boyhood club Newcastle United back in 1996 and the striker even rejected the advances of giants Manchester United to make a move to St. James' Park. While Shearer did not win as many trophies as he would have done at United, the striker became a cult hero to the passionate Geordie faithful and his record of 206 goals in 405 appearances was quite astonishing. Shearer also achieved the wonderful feat of becoming the highest goalscorer in the Premier League (260 goals) with Newcastle and he is undoubtedly considered one of the best strikers of the Premier League era.
3. Cristiano Ronaldo to Manchester United, £12 million

Source
No one can argue against Sir Alex Ferguson's eye for spotting young talent and nurturing them into stars of the future. The famed Class of 92' is a testament to this fact but arguably the best young talent Ferguson has nurtured is Cristiano Ronaldo. Signed as a 17-year old for a sizeable £12million from Sporting Lisbon, Ronaldo became a true superstar of the game under Ferguson and led the Red Devils to numerous honours. Ronaldo was lured away from Old Trafford for a fee of around £80million back in 2009 by Real Madrid but the Portuguese star still remains a hero to the United fans.
2. Thierry Henry to Arsenal, £11 million

Source
There are many great strikers who have graced the Premier League but Thierry Henry is arguably the best of the lot. A deadly striker who had all the skills an attacker needs in their repertoire, Henry led Arsenal to numerous trophies since joining the Gunners from Juventus back in 1999 for just £11million. Henry's performance in Arsenal's wonderful unbeaten season in 2004 is widely hailed as the greatest ever campaign enjoyed by a striker and his record of 226 goals in 369 appearances for Arsenal was quite simply astonishing.
1. Eric Cantona to Manchester United, £1.2 million

Source

In one of the most shocking transfers ever, Leeds United decided to sell star man Eric Cantona to rivals Manchester United back in 1993 for just £1.2million and it is safe to say that the transfer helped the Red Devils become one of the most dominant forces in English football. The arrival of Cantona that kick started United's dominance which would go on to last almost two decades and the mercurial Frenchman's charisma as well as confidence which border lined on arrogance, made him a beloved figure among United fans. The King – as he was known, made over 180 appearances for United and led the club to four consecutive Premier League titles before surprisingly hanging up his boots in 1997 at the age of just 30.
YOU MAY LIKE